---
Welcome to K9 Academy New England!
(Formerly K9 Academy of Revere)
Natanz doing focused heeling, for more details email joesk9@aol.com

---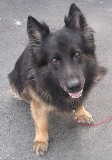 This website is dedicated to Rubus Von Ritterberg, my faithful long haired German Shepherd, who was my demonstration dog and trained with me for 11 ½ years.
Training your dog presents a new set of challenges, and if you decide to attend the private lessons offered, I will customize a program just for you and your canine companion. I take pride in my work with a respect for each dog trained.
Through positive reinforcement and consistency, you will see a wonderful improvement in your dog's behavior and your relationship with them. Your bond will be stronger - your canine friend happier.
What you need to know about canine dog behaviors...and how we can help.

Aggression
Season Special
Dog Training Classes
Only $200.00
(5 Week Course)

---
If your dog barks, snarls, growls, snaps or becomes aggressive at the sight of other dogs or people when walking or when trying to take something from the dog such as their food bowl, chew toy, etc., this behavior can escalate to aggression quickly, but is easily treated with proper leadership and obedience training.

Sibling Rivalry
---
In a multiple dog home sometimes the dogs bicker and pick on one another. With proper pack ranking and a couple of lessons, K9 Academy New England can help you curb their disputes.

Separation Anxiety
---
If your dog is destructive, self-mutilates, or whines and barks, your dog may suffer from separation anxiety. Dogs are social beings and they love spending time with the people in their "packs." Some dogs, however, become nervous or panicky when left alone. They may drool, pant, bark excessively, soil in the house or engage in destructive behavior. They may also try to escape from their homes. We can work with your veterinarian to develop a program to change an anxious dog's behavior. Such treatment plans take time, but are well worth the effort, for both dog and owner.
K9 Academy New England, LLC.

781-248-8850

Joe Ferraro

Certified Trainer & Proprietor

Linda Ferraro

Office Manager & Proprietor