For 25 years, Ferraro has been turning K-9's into 'A' students 
Tuesday, December 8, 2009
The Revere Journal
By Seth Daniel  
Dogs just seem to want to follow former Revere resident Joe Ferraro, and he leads them to good behavior.  Ferraro has owned Joe's K-9 Academy for some 25 years, and despite the down economy, is having one of the best business runs that he's seen "The animal business is not just good, it's spectacular," he said. "Business is good even in this economy. People are taking care of their animals. If it keeps up the way it is, I might have to hire more trainers." 
Ferraro started his business on North Shore Road many years ago, and lived on Geneva Street with his wife, Linda for two decades before moving to Lynnfield last year.  Right now, he can be contacted at www.k9academynewengland.com or he can be contacted through the Pet Supplies Plus Store in Wellington Circle, where he gives classes every Tuesday night.
In addition to behavioral and obedience classes for pets, he also trains search and rescue dogs for law enforcement. Recently, he gave a demonstration at the Revere Housing Authority's Doggie Parade.
He said he has always been good with animals, something that began when he was a kid and got a German Shepherd. "I'm not and never was a big sports fan, but I was always good with animals," he said.
Professionally, Ferraro worked for the state Department of Environmental Management, coordinating the K-9 Unit for 20 years. He retired from that job six years ago, but during his stint there he went to schools for dog training, which sent his business to new levels.
"It's come a long way since I began," he said. "I would take dogs with behavioral issues and I did a lot of training. I had a knack for it. Then I went to school and all the pieces fell together."
Ferraro has to know the tendencies and particulars of numerous breeds of dogs, and said that he knows everything about at least 80 breeds. Of those, he said that the dogs that give the most trouble to him are Rottweilers.
"I think the most stubborn and unpredictable dog I've found in my career is a Rottweiler," he said. "You have to train them when they're young and many people don't."
As for the best dogs, he loves East German Shepherds. "They've been bred as universal dogs – for war and for seeing-eye-dogs," he said. "It's been around forever and they don't over breed the generations. I personally like East German shepherds. The European lines are the best."
However, Ferraro said that any dog can be trained, and if anyone is having trouble with a dog, he might be able to correct the problems.
"Basically, I will figure out why your dog is aggressive or having socialization problems," he said.
Lynnfield Trainer Barks About Dog Services

 
October 29, 2009
Lynnfield News
by Alix Roy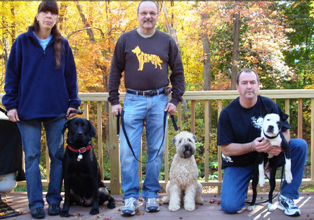 Joe Ferraro & Winston in the middle with two clients on either side.
LYNNFIELD – If your dog resembles Marley from the recent motion picture, perhaps you should consider a visit to local expert Joe Ferraro.
Ferraro, a Lynnfield resi­dent, has made a career out of his love for canines and claims a higher understanding of their behavior. He runs an obedience school called K9 Academy at Pet Supplies Plus in Medford, where he focuses on obedi­ence, behavior modification, anxiety and decision-making. With 25 years of experience, Ferraro says he knows a thing or two about man's best friend.
"Dogs need to be taught to make better choices and to respond out of mutual under­standing, not fear or pain," the long-time trainer said. Most of the time, dog own­ers need just as much training as their pets, Ferraro said, which is reflected in K9's slo­gan, "We train dogs…and peo­ple." Owners without a routine training schedule are doing their dogs, and themselves, a disservice, Ferraro said. "The biggest mistake people make is they're not consistent," he said. "It's like weightlifting. If you don't move those weights you're not going to change."
According to Ferraro, all methods of training should be repetitive and calmly adminis­tered.  "We live in a fast world, I find that people are jumping ahead," he said. "Dogs are not people. They don't absorb everything at once."
Dogs that have been con­fined to familiar places will also act out when introduced to new people and dogs, Ferraro said, which is why all dogs should be socialized within their first year.
To properly socialize your dog, Ferraro rec­ommends using 70 as the magic number.  "Your dog should see 70 dif­ferent places, 70 different peo­ple and 70 different dogs in their first year," he said.
Gaining an understanding of your dog is paramount to achieving good behavior, Fer­raro said, but it is also some­thing his clients struggle with the most. While many dog owners think their pet can understand words, the truth is that hand signals are a much better way to convey orders.
To demonstrate this, Ferraro tells his dog Winston to sit, and simultaneously motions with his hand. A moment later, he uses the same hand signal, but says "chocolate chip." The result is always the same and usually gets a laugh or two from his clients.
Working with dogs and their owners was something Ferraro never planned on doing, but enjoys a great deal. "I like working with peo­ple," he said, adding that the owners are often much more complex than their canine counterparts. "The dogs will do anything you want them to do," he said with a laugh.
Ferraro owned and trained his first dog at the age of 10. He began training dogs for other people in high school and col­lege and surrounded himself with animals from birds to rab­bits. When he was 29, Ferraro accepted a job as a canine spe­cialist for the Department of Environmental Management (DEM), and ended up becom­ing the head of the department. As part of his job, Ferraro trained police search and res­cue dogs, including a black Labrador named Jake who proved invaluable to police during the investigation of a missing child in 1998.
Ferraro eventually opened K9 Academy in its original location in Revere. Assisting him for many years was his longhaired German Shepherd Rubus, who demonstrated tricks and training tips for clients for 11-1/2 years. When Rubus passed away last November, a three-year-old
Wheaten Terrier named Win­ston joined the team, delighting classes with his silent bark trick and spins.  "He's pretty much a charac­ter," Ferraro said.
Ferraro and his wife, Linda, are currently in the process of adding to their family with the help of Rowley breeder Cathy Seale. The main topic at the dinner table these days is what to name the East-German Shepherd puppy that will soon be chewing on the rugs at their Thomas Road home. The two favorites so far are Natanz and Zoro and you can bet the chew­ing won't last for long.  
A New Leash on Life
Joe Ferraro is training dogs at Pet Express in Lynn
Tuesday, June 7, 2011
The Lynn Journal
By Cary Shuman

New England's most illustri­ous dog trainer has arrived in Lynn.
Joe Ferraro, who has been training dogs for more than three decades, is now conducting dog training courses at the Pet Ex­press store on the Lynnway.
Ferraro and his wife Linda own and operate K9 Academy New England, one of the fastest growing dog obedience schools in the region. Linda is the office manager for the business while Joe is a certified canine trainer and animal behaviorist.
Joe Ferraro started training dogs when he was 23 years old. He worked for the state Depart­ment of Environmental Manage­ment as the head canine trainer for 20 years prior to retiring in 2003.
Ferraro works with three to seven dogs at a time at Pet Ex­press in Lynn. Ferraro trains all breeds of dogs, from Great Danes to Chihuahuas, German Shep­herds to Irish setters. He trains dogs in obedience, sport, per­sonal protection, and search and rescue.
Ferraro encourages dog own­ers to reach out to him when their pets are three-and-half to four months old, the age when dogs start developing their attention spans.
Ferraro will first give the dog a one-hour behavioral evalua­tion and then suggest one of two courses.
"We have a five-week Level One basic obedience course that covers five commands: heel, sit,
stay, come, and down. That's a foundation of training. Our Level Two course is for five months and the dog will be trained off leash. We use positive reinforcement training, nothing negative." If a young dog has a tendency to nip at its owner or other people, Ferraro says he can change that behavior.
"We teach dogs who may be trying to nip at their owners, I tell the dogs, 'no'and redirect them with food reinforcement," said Ferraro. "So when they go to nip you, you say, 'no,' have the dog look at you, give them the treat, and praise them. I call it the power of working with food. You want to keep you dog engaged
with you, because the dog wants something you have and that is food."
Ferraro said that right after purchasing a dog, an owner should socialize his dog with 70 to 100 different dogs, people, and locations.  "It's crucial that in the first 16 weeks of their lives the dogs should be socialized
with people, places, and other dogs, then you'll have a well-balanced dog," said Ferraro.
The Ferraros own three dogs, a Maltese mix, ChiChi, a soft-coated Wheaten terrier, and an East German Shepherd, Natanz. "The Wheaton terrier, Winston, is our trick dog," said Linda Ferraro. "He's as cute as can be and does spins, a silent bark, and other tricks."  Joe Ferraro started his education in dog training at the Dog House Training School in Salem under the tutelage of John LeBlanc.  Ferraro has also received instruction from international dog trainers Mike Ellis, Terry Haskins, Scott Dunmore, and  Brandon Hayes.
"My wife and I love dogs," said Ferraro. "I had my first dog when I was five years old. I was always good with dogs as a teenager. My mother always used to say me that I should be a professional dog trainer someday."
Today the Ferarros are helping dog owners improve their dogs' behavior and their relationship with pets.
"Every dog is an individual and it takes time and patience," said Joe Ferraro.
Joe Ferraro, owner of K9 Academy New England, is pictured with some of his canine friends.